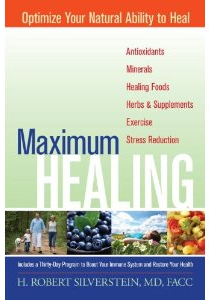 Maximum Healing: Optimize Your Natural Ability to Heal
By H. Robert Silverstein, MD, FACC
This is a newly re-written and re-published edition of the book.
If you suffer from – allergies, asthma, high blood pressure or cholesterol, cancer, chronic fatigue, headaches, heart disease, joint pain, skin disorder, or rheumatoid arthritis – then this may be the most important book you will ever read.
Inspiring case histories demonstrate successful treatment and prevention of these and many other illnesses.
"This book offers terrific insight into how the human body works and what you can do to restore your health."
—Luca Maciucescu, PhD, Research Scientist, Los Alamos National Laboratory
Based on his CAIM (Complementary-Alternative-Integrative-Medicine) approach, Dr. H. Robert Silverstein outlines a program that integrates modern medical practices with alternative and ancient forms of healing. Recalling the work of Andrew Weil and Larry Dossey, the book argues that our self-healing mechanism—the immune system—is more powerful than we think. If we make wise diet and lifestyle changes, says Silverstein, the immune system can function at an optimal level, restoring health and preventing future illnesses.
Part I explores the five keys to health—five critical domains that affect the immune system: the quality of our air, water, and food; the degree of physical activity we engage in; and the degree of positive feelings and stability in our psychological and emotional lives. Providing a clear description of the immune system, the book details the elements of good health, which include healing foods, minerals, antioxidants, herbs, physical activity, and the avoidance of unrealistic thinking. Part II contains a thirty-day program divided into four parts: diet, exercise, outlook on life, and creating balance in daily life. The book concludes with over sixty restorative recipes designed to boost immunity and help fight chronic illnesses.
H. Robert Silverstein, MD, is board certified in Cardiology and Internal Medicine and is a Fellow of the American College of Preventive Medicine. His approach to medicine is holistic, patient empowering and inclusive of Complementary Alternative Integrative Medicine (CAIM). Dr. Silverstein is available for personal appearances.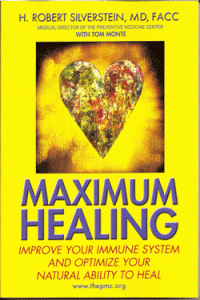 Order Maximum Healing through these preferred booksellers: